Central Band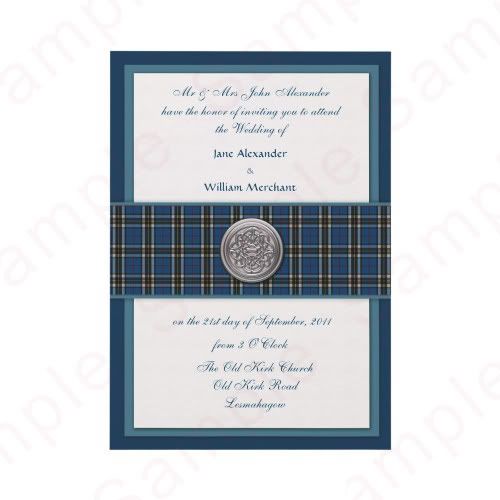 A strikingly bold yet sophisticated design, this tartan Wedding invitation features a two-tone background, picking up colors from the Thomson (Thompson) Derss tartan in blue. A broad band of the tartan spans the center of the invitation and is topped with a faux badge featuring Celtic knotwork in silver shades. A gold toned version of the Celtic knot badge is also available for use on tartans where warm tones are more suited. The text area of the invitation has a very subtle, off-white linen pattern. The text is fully customizable on the product page where you can select any color or choose from over 300 available fonts.
This particular invitation is already available in a number of different tartans however bespoke design requests are always welcome.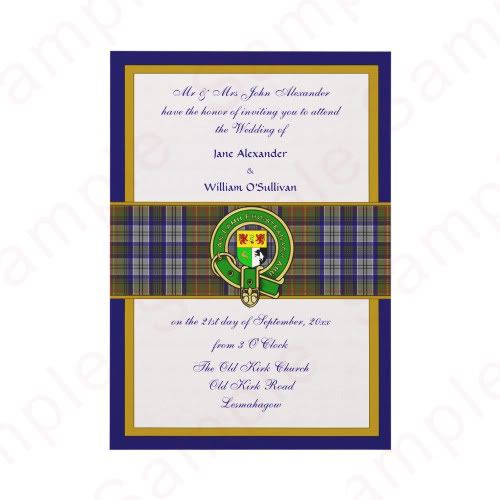 This version of the Wedding invitation shows the same concept of design, this time using the O'Sullivan Irish taran and picking up deep indigo blue and golden colors from it for the background. In place of the Celtic knot badge is an O'Sullivan family or clan badge (crest). The badge features a strap and buckle in emerald green and gold shades with the O'Sullivan family motto. Within the strap is a sheild depicting two lions rampant, a stag, a boar and a hand brandishing a sword with a snake entwined around it.
This inviation can be prepared with your choice of tartan and family crest. Please note however that an additional fee may be incurred for preparation of the crest depending upon it's intricacy and/or availability. Any fees would be detailed to you prior to commencement of the design process.

More from this range:
View the full tartan collection in store.