TARTAN WEDDING STATIONERY



Whether you are Scottish, Irish or of Scots-Irish descent, tartan Wedding Invitations are a simple and tasteful way to incorporate a tartan plaid element into your wedding theme. I have several tartan design styles to choose from via my Artform the Heart store, each of which is available in a choice of sizes and on a range of paper types. Custom requests can be made for any of the designs with your own choice of tartan, please see the Custom Designs page to make an enquiry. Several of my existing tartan designs easily allow the incorporation of two different tartans; one for the Bride's family and the second for the Groom's family or alternately modern and ancient tartan setts of the same clan.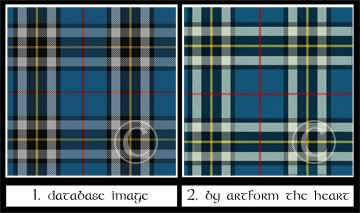 Even if the tartan pattern that you would like to incorporate into your Wedding theme is not readily available from the usual image databases, I have in place graphics templates which are set up to recreate any tartan from scratch. As you can see from the graphic to the left, the image files which I create myself retain a greater vibrancy than the readily available versions of the tartan and are therefore better suited to print applications. This also means that if your family does not have an existing tartan of it's own to use, that I can work with you to create an entirely new and unique tartan sett.
Click on any of the tartan Wedding Invitation images below for a larger view and a detailed description.