Space themed gifts are perfect for children who love outer space and who dream of becoming an astronaut or a rocket scientist. Anything related to astronomy or space travel is a great way to spark your child's imagination and interest in science. I have put together a fun range of cute cartoon style space travel themed gifts, cards and invitations that are bright and colorful for younger kids. All of the products are completely customizable and I'm always more than happy to assist if you need any help.
This poster is both fun and inspirational for kids. A little rocket ship is seen flying towards the moon, set against a dark blue sky with lots of twinkling stars. The inspirational message on the poster reads: Dreams can take you anywhere.
Another version of the design with a lighter blue background and several planets scattered around it has been used for this customizable Birthday greetings card. You can easily add your child's name in the text box and even personalize the message inside this cute card.
This cute wall clock has the same rocket ship, this time it has landed on the moon and the little boy astronaut is standing on the moon's surface beside it. This clock is a super fun gift for children's bedrooms!
Another fun gift for your child's room is this jumbo 20 inch throw pillow. This time the spaceship is in orbit and the adorable little astronaut is in the middle of a space walk. Filling your child's bedroom with these super fun designs is a sure way to fire up their imaginations and inspire them to take an interest in science.
For a space themed children's birthday party, what could could be better than this little astronaut invitation? How about being able to add the birthday boy or girl's own face to the design and have them become the astronaut? This invitation is set up so that you can upload a photo of your child and it will appear through a cut-out area in the design so that it will appear as if they are wearing a spacesuit.
FRONT
BACK
These cute designs are all available on a huge range of gifts, home-wares and stationery and can be seen in my
Artform the Heart store on Zazzle.
Following on from my previous post and the Scottish themed Thistle Collection, I thought that I would follow up with a post about The Shamrock Collection. The Shamrock Collection is a tasteful Irish themed range of co-ordinating wedding invitations and stationery. All of these designs incorporate the bold St Patrick's tartan plaid in vivid green, yellow and white with a photograph of a shamrock leaf, the national emblem of Ireland.
The design has a band of the Saint Patrick tartan to the top and bottom with a shaded green border. A similarly shaded frame then incorporates a bold photographic image of a shamrock leaf against a digitally altered black and white background. The invitation is 5 x 7 inches (127 x 178mm) however I can alter the design to suit many other sizes should you wish.  There is a choice of six different paper types including; basic, recycled, felt, linen, speckled and metallic. All invitations come with plain white envelopes as standard.
The collection includes Save the Date Announcements, RSVP Enclosure Cards, Wedding Programs, Table Numbers and Menus. Additional items can be prepared at your request.
The full range can be viewed by clicking on the international flag links below:
I've been suffering from a lack of inspiration to design for almost a week but thankfully my motivation returned yesterday with a resounding boom. Rather than just wait for inspiration to hit, I decided to concentrate specifically on birthday cards for boys and the creative juices began flowing. I have come up with some cool designs that you can customize with the recipient's age, and there are a lot more new designs in the works.
This fun card has a little cartoon boy sitting upon the floor playing his video games; controller in hand and a bunch of snacks beside him. This example has his age as 13 years but that can easily be changed using the template field on the product page.
Next up is this little rock star emo teenager with his electric guitar. The backdrop of his stage set is dark blue with bright yellow stars and the number 16 (again this is customizable to any age). A great birthday card for any teen boy who loves music!
I went back to the video gaming theme for this birthday card which features a black and white checkerboard backgrouns (a cammo version id also available). This simple graphic design has a cartoon gaming controller in grey, perfect for game addicts!
Finally, for now, is this handheld games console birthday card. The front of the card is made to look like a handheld game with built in screen and D-pads. The text to the front of this gamers card can be customized to suit many occasions in addition to birthdays.
I can't say that I have been a "dog person" my whole life; as a child I had cats and I always thought that I'd be a cat person to the end of my days. Add to that the fact that when I was younger a dalmatian clamped it's teeth around one of my kneecaps and wouldn't let go and it's safe to say that I was pretty much terrified of dogs. That was until, while on vacation, I stayed with someone who owned a Shih Tzu….oh boy did I fall in love! Besides being adorably cute, with a face that looks as though it is permanently smiling, they have such a friendly and playful nature. Cats? Forget cats! I adored that little Shih Tzu so much that I wanted to bring him straight home with me, lol.
So recently when I decided that it was way past time for me to add some new animals to my Animatastic store I thought that I would give designing some dog cartoons a try. I prefer the small, toy dog breeds and decided to stick with puppies for the theme since all puppy dogs are cute. All of the dogs have the same basic body shape but it was so much fun (and a challenge) to create all of their faces. So far I have two little Shih Tzus, two Yorkshire Terriers, a Labrador, a Pomeranian, a Westie, a Scottie Dog, a Samoyed and a Pug. All of them are available on a wide range of products in the Animatastic store.
Although I just love, love, love Shih Tzus, I think that my favourite design so far from the puppy dogs range is my little black Scottie Dog (Scottish Terrier). I'm certainly going to have a lot more fun working my way through even more dog breeds in the very near future!
News of hurricane Sandy was scary and shocking to say the least. So many lives lost, destroyed or distrupted. Once again zazzle has stepped up and offered it's community a way to show it's support. They are allowing all of us designers to donate products to charities helping with relief efforts. The way it works is that we can add a keyword to our products and both our royalty for the design and zazzle's profit for the product will be given to charity. I applaud zazzle for doing this because  for one thing I live in the UK and can't offer physical support to the effort and secondly I am on a tight budget financially so find it difficult to keep donating to charities in a meaningful way. What's great about HOW zazzle are doing this is that they are allowing us to donate ANY of our products so it's not restricted to designs that relate directly to Hurricane Sandy. I believe that that will ultimately generate more sales and a larger chunk of change going to a good cause. So far I have tagged a Thanksgiving postcard, Christmas mailing labels and a Rock Chick keychain from ArtformTheHeart, I still have to pick products from all of my other stores to add to the effort.
It will take time for our tags to filter through, but there are already a lot of donated products appearing and the number will continue to increase over the next week or two.
The official zazzle blog post on the subject can be found here.
If you would like to add your support, and maybe pick up a christmas gift or two in the process, then you can find the products here.
Normally when I place any link to zazzle I'll put my associate ID on there to grab a referral fee, however since this is for charity I think it would be pretty tasteless to do so. I really don't think that a disaster that has affected so many people is something to profit from!
Taking a break from talking about teddy bears, I wanted to take a few moments to mention my newest store on zazzle that is dedicated to patterns. Over the past year or so zazzle has introduced a huge selection of great new custom products. I considered that a lot of my designs weren't all that suited to kitchen towels, napkins, clocks etc so I hadn't spent a lot of time or effort creating these new products for any of my stores. But one day it occurred to me that I create so many background images and patterns to work with my other designs and that these patterns were being radically underused. Patterns are perfect for so many of the new homewares products that zazzle have introduced, as well as many of their existing gift products.
The patterns that I have in the Artform The Heart store sell rather well and it made perfect sense to utilize all of these pattern images that I have on my hard drive. With that decided it was then a question of whether to add these designs to the already cluttered Artform The Heart store, or to dedicate an entire new store to them. To make it easier for customers to navigate, I chose to create the all new Artform Patterns store.
This is one of my floral pattern binders which I simply adore. I do like dark and gothic style prints so of the three color options in this design, this dark grey is my favorite. Acoordinating decorative frame means that customers can personalize the design by adding their own name, or title for the binder. Having had to submit binders with coursework so many times when I was in college, and then struggle to find my particular plain blue binder in a pile of plain blue binders after the work had been marked, I just wish that zazzle had been around back in my day; these binders would NEVER become lost in a crowd!
If you are just dippy about polka dot, there are several really delightful versions of this pattern and the go amazingly well on a number of accessories such as the mini messenger bag, iPhone cases and even keychains and belt buckles. All of the products in Artform Patterns are customizable so you can personalize these designs to your heart's content.
Of course the patterns store isn't just for girls, there are a selection of more masculine patterns that are designed speciffically for men too:
It has taken me a little longer than expected to get back with this second Teddy Bear post, but finally I have managed. I was diverted by working on a new store which I'm very excited about, but more on that in another blog post. For now back to the teddies!
This little guy is called Frankenbear. He's a cute green monster teddy bear with lots of additional stiching and a large bolt through his neck. This is one of two teddies that I design specifically with Halloween in mind and he's a cute twist on the traditional Frankenstein's Monster.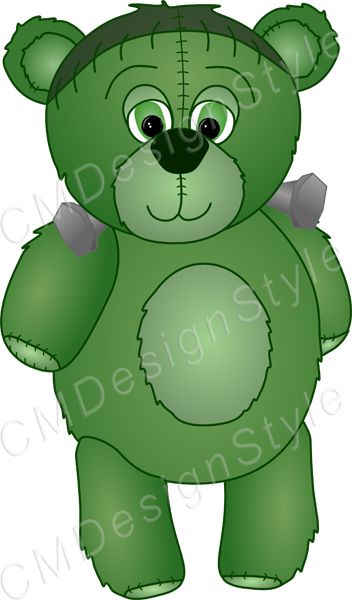 Also for halloween but not quite so cute for kids is this little zombie teddy bear. He's in a pale grey color and his skin (or fur) is all cracked and peeling. Some of the stitches on his head have come loose and his little teddy brains (or stuffing) is beginning to fall out! On top of all that he is covered in blood from munching on other teddy bears!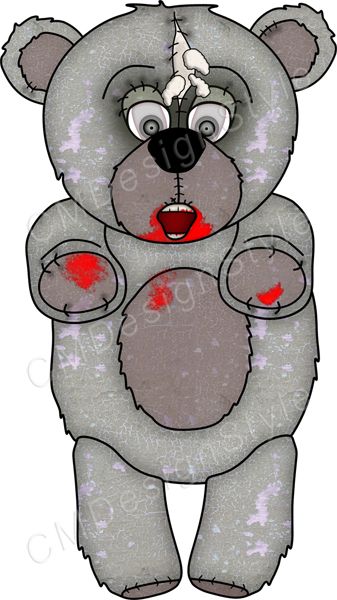 Veterans Day, or Rememberance day as it's known in the Commonwealth is just a little over a week away and so I decided to add a teddy bear that would honor all of the heroes who have served both past and present. He's dressed in camouflage army fatigues and holding onto a gun. I'd like to do several more designs on this theme to include all branches of the military but unfortunately I don't think that I'll manage that in time for Armistice Day.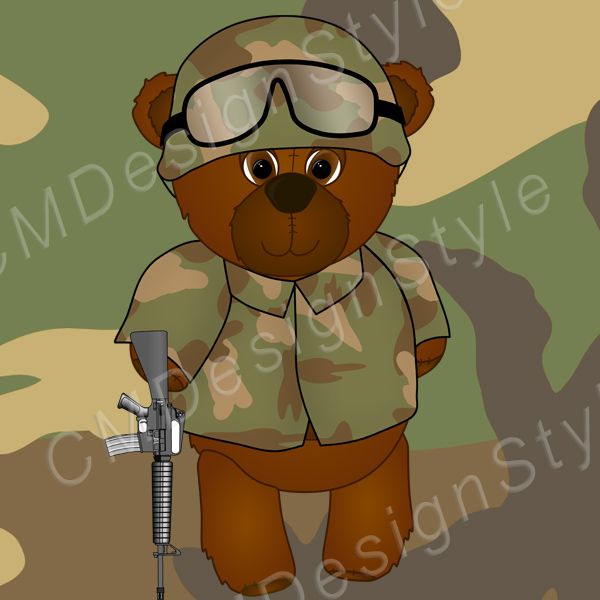 With Thanksgiving almost upon is too I wanted to do an appropriate themed teddy bear for that too. This little guy is sat in a huge, carved out pumpkin and he even has some of the seeds stuck to his face! He's wearing a traditional pilgrim style hat that's sitting at a jaunty angle. This design has a couple of different background styles for different products that I have placed him on, but all are just as cute as he is!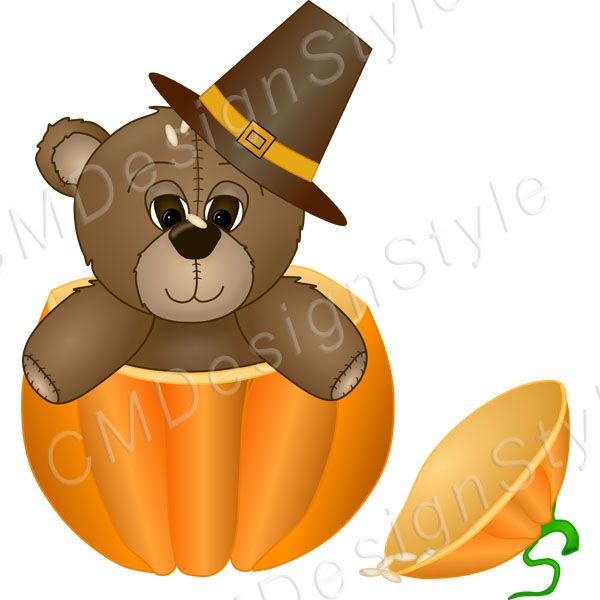 Wow, that's another four Teddy Bears and I haven't nearly gotten to the end of them yet. Stay tuned to the blog for the next installment!
If you have taken a look around the site then you'll know that I love all different kinds of designs. For the past few months though I have really found that I'm going through a "cute" phase.  My most recent batch of cuteness stemmed from me wanting to do a firefighter cartoon…..I have no idea why, the thought just popped into my head out of the blue. When I got down  to designing, for yet another unknown reason, I decided to make the character a teddy bear firefighter. Well, after that I  was hooked on teddy bears and have several different versions ready, with lots more ideas and "in progress" designs.
This is the little guy that started it all off:
I wanted the design to be bright and fun for kids so I chose the yellow variation of a firefighter's uniform. I made his little teddy bear ears squish down under his fireman's hemet too. Incidentally, the logo on his helmet reads "firebear". For some of the products that I wanted to put him on I decided that a frame would work really well so I made a striped border using the bright yellow colour from his jacket and the beige brown from his fur. I added bright red fire extinguisher and USA style fire hydrants to the corner squares.
Another of the new teddy designs is this pretty little cowgirl bear in lovely girly pink:
With this little girl bear I wanted to give her a slight pink tinge to her fur without it becoming "too much". That was partly because I knew that I wanted to give her quite vibrant pink cowboy boots and hat. For some of the products that I added her to she has a frame that is similar in style to the fireman's, but hers has little pink ponies from my Animatastic store in the corners. For some of the other products however I wanted the background to be really bright and vibrant and so I created this beautiful little pink sunset scene and addeda couple of cacti in silhoutte. This background gave the whole design much more visual impact and it also allows the design to appeal to older children and teens. There  is of course a simalar cowboy design for all the little boys out there, but he isn't pink!
If you follow the blog, I will be writing about some of the other teddy bear designs soon.
Save up to 60% off at Zazzle until September 24th
60% OFF prints & canvases
50% OFF cards
40% OFF calendars
30% OFF cases
20% OFF apparel
15% OFF everything else
Use coupon code: PRICESRFALLN
60% of the wrapped canvas, poster and/or photo print net sale price will be deducted when one or more qualifying products are purchased and the coupon code PRICESRFALLN is applied at checkout. 50% of the invitation, greeting card, photo card and/or postcard net sale price will be deducted when one or more qualifying products are purchased and the coupon code PRICESRFALLN is applied at checkout. 40% of the calendar net sale price will be deducted when one or more qualifying products are purchased and the coupon code PRICESRFALLN is applied at checkout. 30% of the case net sale price will be deducted when one or more qualifying products are purchased and the coupon code PRICESRFALLN is applied at checkout. 20% of the shirt net sale price will be deducted when one or more qualifying products are purchased and the coupon code PRICESRFALLN is applied at checkout. 15% of the Zazzle product net sale price (for products not listed above) will be deducted when one or more qualifying products are purchased and the coupon code PRICESRFALLN is applied at checkout. For most products, the net sale price is the price of the product (excluding shipping and taxes). For Zazzle Custom Stamps, the net sale price is the difference between the price of the Zazzle Custom Stamps (excluding shipping and taxes) and the face value of the postage. The coupon code PRICESRFALLN must be entered during checkout to receive the offer. Offer is valid through September 24, 2012 at 11:59 PM PT. This offer does not apply to past purchases and may not be combined with any other Zazzle promotional or volume discount offers. If a volume discount applies to your order, you will receive either the discount set forth in this offer or the standard volume discount, whichever is greater. Offer valid on Zazzle.com only.